Minister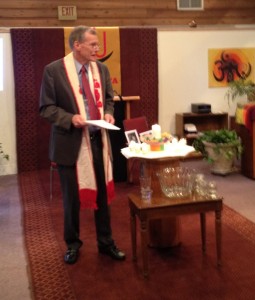 A Welcoming Message from Rev. Fred Howard
Welcome to our congregation!   We have been providing a liberal religious presence in Valdosta since 1965.  The current facility we occupy, "The Church in the Woods," is a beautiful stained wood structure designed by one of our own members and is located at 1951 East Park Avenue just past Greenleaf Hospital, next to J.L. Newbern Middle School.  As an intentionally multicultural community we are open to people from many different walks of life.   When you walk through our doors, we do not ask you to give up your previous religious tradition, but rather we ask that you bring the best of that tradition with you so that we may be enriched further.
We are a member of the Unitarian Universalist Association of over 1000 congregations throughout the United States and Canada.   Unitarian Universalists are guided by seven principles.  One of these principles is a free and responsible search for truth and meaning.   Ralph Waldo Emerson, one of the most recognized and revered members of our movement, expressed the quest of our faith journey beautifully when he penned, "Why should not we have a poetry and philosophy of insight and not of tradition, and a religion by revelation to us, and not a history of theirs?"   Emerson was poetically saying that we are a community of seekers who believe reason and intuition are valid sources of insight and inspiration.  Though we draw wisdom from all the world's great religious traditions, we are not bound by the religious authority of a book or an institution.   As such, we are deeply committed to "deeds not creeds" and we are very active in the community in promoting social, racial, economic, and environmental justice.
If you are looking for a religious home, let me encourage you to visit our congregation.  I am confident you will find us a warm and inviting place of acceptance and love where you may strive for intellectual, moral and spiritual enlightenment.  We are open to people of all races, nationalities, ethnicities, and sexual identities.   If you would like to find out more about us or have any questions, please contact me at fredhoward3622@gmail.com.  We look forward to getting to know you.
Warmest Regards,
Rev. Fred Howard